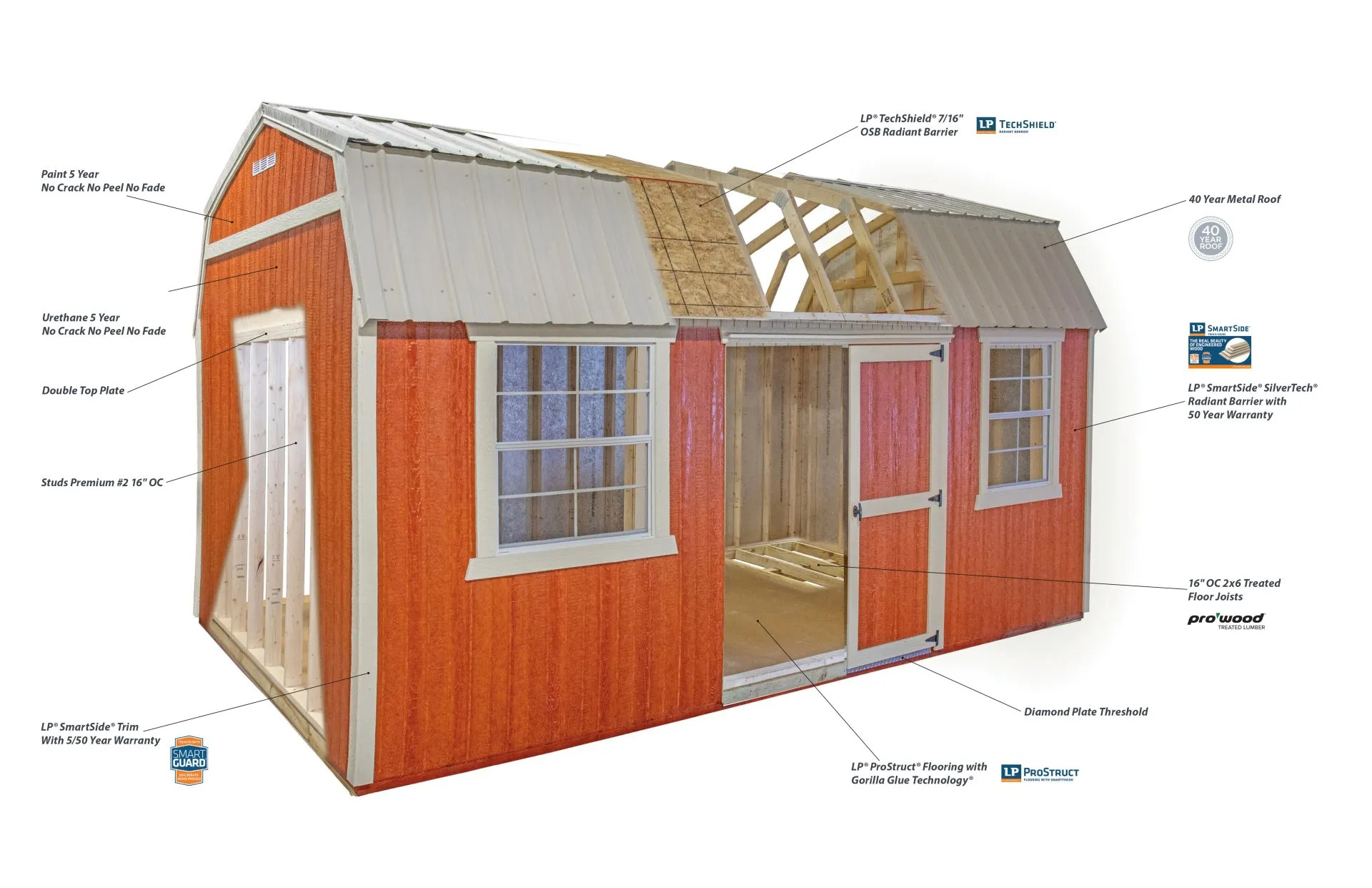 CUSTOM BUILT WOOD SHEDS
We offer custom-built wooden sheds in a variety of sizes, from compact 8'x8′ structures to spacious 14'x40′ sheds. Our sheds are built with high-quality materials and can be customized to fit your exact specifications, including windows, doors, and more options. Sheds can be ordered in certain areas.
See Options
Classic
The Classic Series building includes 7/16'' 4'' on center grooved LP® SmartSide® with 5/50 year limited warranty and radiant barrier technology. The Classic comes standard with 16″ on center 2×4 wall studs, 3/4″ LP® ProStruct® Flooring with Gorilla Glue Technology.
Also available in End Porch, Side Porch, Deluxe Porch and Garage Packages. Dormer Packages available on A-Frame only.
LP® materials have a standard 50 year material warranty. Painted metal roofs have a standard 40 year warranty.

Classic Lofted Barn
Barn Style with Lofts Available for Extra Storage Space
Premium
The Premium Series building is identical to the Classic series with the exception of horizontal 8″ LP® Lap siding overtop a SmartSide® backing. Lap siding is designed with HOA and neighborhood guidelines in mind.
Premium Ultility
Premium A-Frame Style Shed
Premium Lofted Barn
Premium Barn Style with Lofts Available for Extra Storage Space
Other Available Options
Pre-installed electrical: from 15 AMP Economy to 100 AMP Expandable Utility packages
Lofts in Barn Style Buildings (Up to Building Length)

Built in Shelves and Workbenches

12″ on Center Floor Joists

Roll up and Sectional Garage Doors

Add Rampage Door: doubles as a door and a ramp

Extra Doors Including Single, Double or 9-Light Doors

2′ x 3′ , 3′ x 3′ , and Transom Windows

Aluminum Ramps

Custom Sherwin Williams Paint Colors
Building Upgrades
Porch, Garage, and Dormer packages.
Roll-Up Garage Package
12′ OC Floor Joists
Solid Fiberglass Door
2×3 Window
9×7 Roll-Up Garage Door
Sectional Garage Package
12′ OC Floor Joists
Solid Fiberglass Doors
2×3 Window
9×7 Sectional Garage Door
12′ Dormer Package
Accent Doors 

Z Shutters on Windows
Transom Windows in Doors
(2) 3×3 Windows
(4) Transom Windows in Dormer
8′ Dormer Package
Accent Doors 

Z Shutters on Windows
Transom Windows in Doors
(2) 2×3 Windows
(3) Transom Windows in Dormer
Deluxe Porch Package
(5) 2×3 Windows
9-Lite Fiberglass Door
Double Barn Doors
Deluxe Wrap Around Porch
Composite Decking
4×6 Pressure Treated Posts
Side Porch Package
(3) 2×3 Windows
9-Lite Fiberglass Door
Double Barn Doors
4×8 End Porch
Composite Decking
4×4 LP® SmartSide® Painted Posts
End Porch Package
(2) 2×3 Windows
9-Lite Fiberglass Door
Double Barn Doors
4×8 Side Porch
Composite Decking
4×4 LP® ​SmartSide® Painted Posts